Last month, Microsoft CEO Satya Nadella spoke at the
Grace Hopper Celebration (GHC)
of Women in Computing. I didn't see it live, because my plans to attend the conference were thwarted by a company-wide travel ban. But since the GHC conference completely changed my career aspirations when I attended in 2010, I follow it annually whether I'm there in person or not.
GHC has an amazing wiki
that offers all sorts of amazing resources, from PowerPoint presentations to session notes. You can follow the whole thing on Twitter and it's the next best thing to being there.
#ghcmanwatch
was was an exciting hashtag to follow this year, complete with a male ally buzzword bingo game.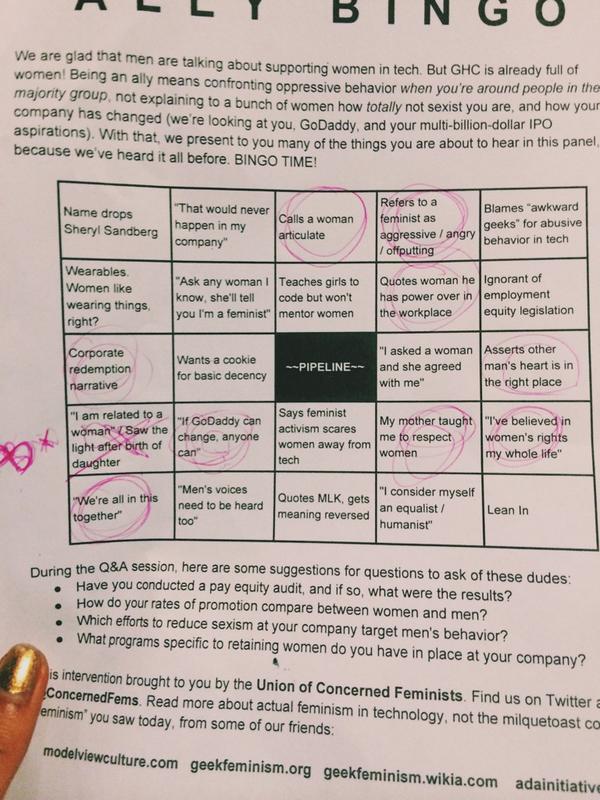 At the GHC 2014 conference, Nadella commented that women should trust the system, and karma, regarding compensation. Here is
a recap
of the controversy. He eventually backtracked on his comments and apologized. Compensation equity for women is a complex, tricky, taboo, subject, and it's easy to get oneself in hot water when discussing it. Personally, I applaud Nadella for showing up to GHC, and also for his later comments recognizing the bias inherent in his original statements. While
#ghcmanwatch
was entertaining, I yearn for a time when we can transcend the counterproductive shaming and name calling. The fact is that women absolutely need male allies if we are going to shatter the glass ceiling.
So where does this leave the cause of pay equity for women? I think each woman owes it to herself to educate herself on effective negotiating behaviors and be her own advocate.
One place to start is the book
Women Don't Ask: The High Cost of Avoiding Negotiation and Positive Strategies for Change.
Conveniently, my colleague
Pat Katepoo is giving away three copies of this book.
To enter, all you need to do is
like her on Facebook
,
comment on the giveaway post
, and
take a brief survey
(2 minutes, tops) to share your feelings about asking for a raise and contribute to research in how to address the gender pay gap.
Do it now; it only takes 5 minutes to complete all 3, and the giveaway ends November 20.
If you're serious about understanding and getting your market value as an employee, you owe it to yourself to find out more about Pat's
Pay Raise Prep School for Women
.
P.S.: When you are looking for ways to improve your satisfaction at work, visit Pat's
WorkOptions.com
site. She offers strategies for getting approval for telecommuting, job sharing, flexible workweeks, and longer maternity leaves, and other flexible work arrangements, that are effective in even the most rigid workplace.
This post contains affiliate links. For more information, visit my disclosure policy.